In today's highly competitive and fast growing Federal Government market, how can your company best offer the largest consumer of telecommunications and computing products and services a vehicle for purchasing? GSSI can help.
GSSI provides its clients with complete and thorough GSA schedule acquisition and management services -- with a professional and personal approach unmatched in the industry. We work with your company from the strategy and planning stages through the acquisition of your GSA schedule and beyond.
Please call us at (703) 849-9047 and talk with one of our experienced staff members to receive answers to these questions and get started on what may be the biggest revenue producing decision your company will ever make.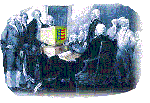 Check out the ARNet (Acquisition Reform Network) web site, one of the best sources for information on federal government procurement and related subjects.
Click here for Information Technology Contract Award Data

Government Schedule Services, Inc.
8300 Arlington Blvd., Suite C1
Fairfax, VA 22031-5201
Phone: (703) 849-9047
Fax: (703) 849-9048
© 1998 Government Schedule Services, Inc., ALL RIGHTS RESERVED.